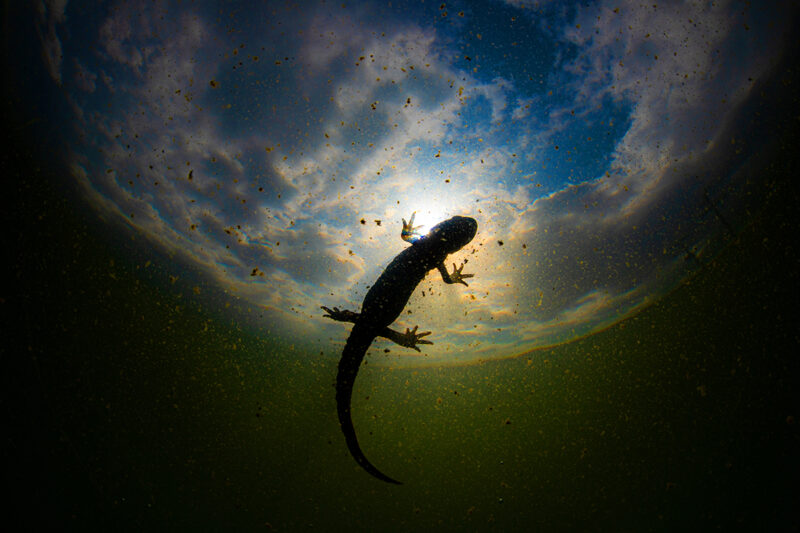 Invasion (2020)
€410,00 – €2.700,00
Description
Under the quarantine due to the pandemic of COVID19 with the ban measures in place and making traveling looks like a dream, I decided to take advantage of the informations I had and photograph the frogs that live in a nearby pond. The photo shoot took a completely different turn when I noticed that a common watersnake (Nerodia sipedon) had something in its mouth that did not look like a frog… with a closer look I discovered that it was an Crested newt (Triturus macedonicus). Τhis unexpected event triggered a series of dives that led to the discovery of a small colony. This species is found in Western Macedonia, Thessaly, Epirus, western Central Greece, Corfu. It was recently reduced to a species since until recently it was classified as a subspecies of the species Triturus carnifex. The final size of females reaches 18cm and males 15cm. It is mainly a nocturnal species and remains in the water about 1/3 of the time during the spring period, where it reproduces. By the end of the breeding season, females lay up to 250 eggs.
Edition of 25
Paper size 59cm x 42cm
Image size 46,5cm x 30cm
Edition of 10
Paper size 112cm x 81cm
Image size 88,5cm x 58,5cm
Edition of 5
Paper size 160cm x 117cm
Image size 126,5cm x 83,5cm
Limited edition art prints are made from the highest quality archival paper and dispatched from Nicholas Samaras's studio in Thessaloniki. Each edition is signed, numbered and sent with the corresponding certificate to guarantee authenticity.