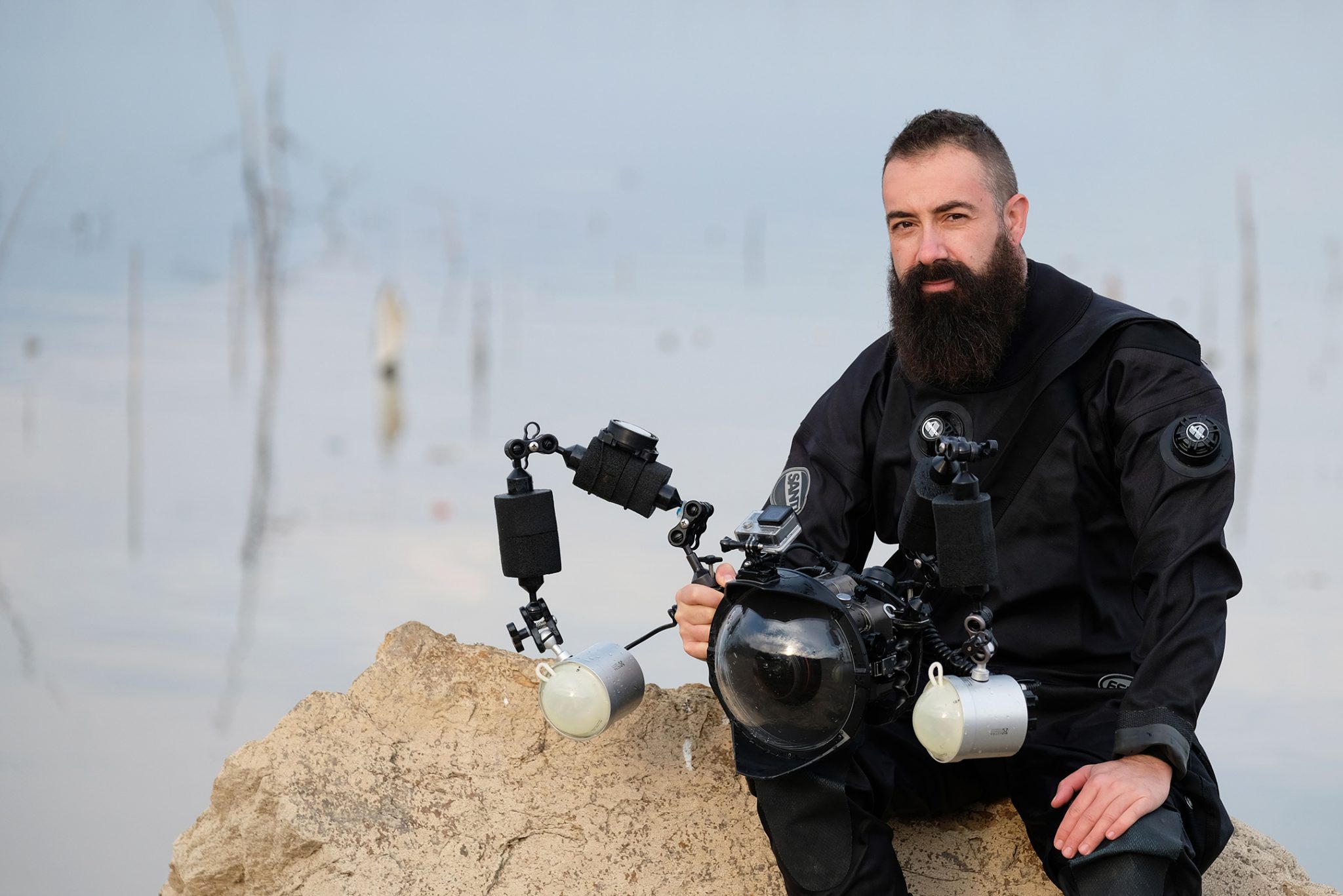 ABOUT
Nicholas Samaras is an award winning photographer and one of the most passionate and committed underwater photographers worldwide. His love and dedication to sea and its creatures in combination with his characteristic effort to bring out to surface the beauty of the marine world with a unique aesthetics, established him in a very short period of time both in Greece and abroad.
Nicholas talent for underwater photography was evident from his first attempts to shoot underwater. His enthusiasm of constantly seeking knowledge starting from his studies and his background as a creative director for years in a modern advertising company, the fresh techniques and his tendency to innovate new ideas, transformed him from a conscious diver to an underwater photographer with a way of photography of his own, a unique style.
Hundreds of thousands shots on top rated destinations abroad and on multiple personal projects in unexplored and difficult to reach – unmapped spots in Mediterranean Sea, pool shots for athletes, models and family portraits compose his impressive image bank, his treasure.
From 2006 the year he took the plunge into the world of competing festivals until today Nicholas has garnered numerous international awards to his name including Festival Mondial De L'Image Sous Marine, Scuba Diving Magazine International Annual Contest (USA), "Through The Lens" SDAA/MIDE International Competition, "Our World Underwater" international underwater photography and video competition, G.D.T. European Wildlife Photographer of the Year, Ocean Photography Awards and many more.
His awarded photographs have been exhibited in the most crowded international festival halls and a selected portfolio appeared in his first solo exhibition under the title Soulfly in Greece and Austria from 2008 to 2009.
Nicholas has contributed the National Geographic Magazine, several international editions including Scuba Diving Magazine (USA), Australasia Scuba Diving Magazine, Asian Diver Magazine, Through the Lens Magazine, Discovery Channel Magazine and his works have illustrated the pages of numerous diving and photography publications.
Please note: all photographs and text anywhere in this web site are copyrighted, WITHOUT EXCEPTION. I encourage you to look and to enjoy for free. But copying any image, downloading and saving any image onto a computer storage system, using any image in another web site, using any image as computer screen "wallpaper", or any other unauthorized use or reproduction of any image in this site is strictly forbidden and subject to severe legal penalties.